About the Show:
We recently had a chance to sit down with Kinya Christian, CEO, Artist, and Designer with 4209 Creative. Originally from Independence, MO, Kinya has been in Northwest Arkansas for the past two decades. She considers herself a Jack of All Trades but, according to her website, she is working on mastering at least one!
By the looks of her website, she is doing a great job as an artist. Kinya is inspired by a lot of things and The 1619 Project serves as her latest inspiration. The 1619 Project is a collection of essays from the New York Times on the significance of Africans' first arrival here in America as slaves and what the past 400 years have represented to the evolution of African Americans.
Kinya has taken a very heavy topic and assembled a collection of local black and white artists in Northwest Arkansas who have provided their interpretation of the 1619 Project the only way they know how – through art.
Kinya will share her reflections on this project in a show in Rogers, AR, Reflections of the Black Experience, at the Rogers Experimental House from February 13-29, 2020. The collection will then move to the Rogers Historical Society until March 29, 2020.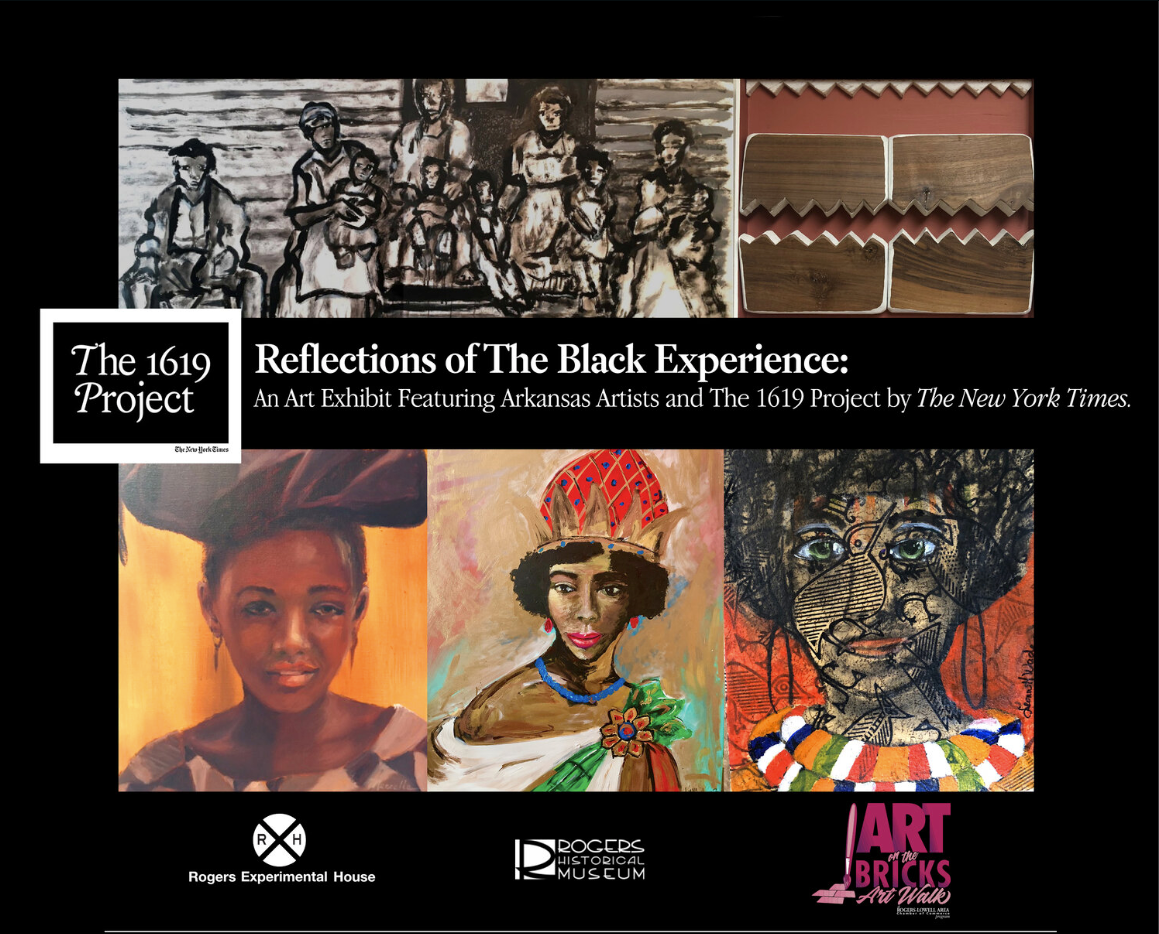 Art on the Bricks Art Walk Thursday, Feb 13, 4:00 p.m. – 7:30 pm Rogers Experimental House, 121 W Walnut Street, Rogers, Arkansas
This episode is a great chance to learn about the diverse art scene in Northwest Arkansas and how even difficult subjects like The 1619 Project can be represented, interpreted, and discussed through the lens of Art.
We also want to acknowledge the efforts and support of the Rogers-Lowell Chamber of Commerce helping to get this event off the ground.
Listen to this podcast and read the transcript to learn more about Kinya and The 1619 Project.
If this podcast episode resonates with you please let us know by commenting below or by dropping us an email. We appreciate each and every listener of this podcast.
All of this and more on this episode of I am Northwest Arkansas.
Important Links and Mentions on the Show*
Website for 1619 Project Podcast
Email Kinya Christian
Website for Kinya Christian
Website for 4209 Creative Website
Website for Art on the Bricks, Rogers, Arkansas
This episode is sponsored by*
Signature Bank of Arkansas "Community Banking at its Best!"
Northwest Arkansas Council – "Life Works Here!"
*Note: some of the resources mentioned may be affiliate links. This means we get paid a commission (at no extra cost to you) if you use that link to make a purchase.
Connect more with I am Northwest Arkansas:
Thank you for listening to this I am Northwest Arkansas podcast episode. We showcase businesses, culture, entrepreneurship, and life in the Ozarks.
Consider donating to our production team to keep this podcast running smoothly. Donate to I Am Northwest Arkansas
Mentioned in this episode:
Signature Bank Commercial 2023 – GH